ESS Tactical Protective Eye Wear
X-Caliber Tactical is an authorized reseller and distributor of ESS products.
---
» About:
Eye Safety Systems: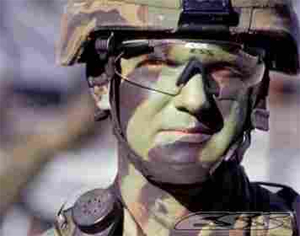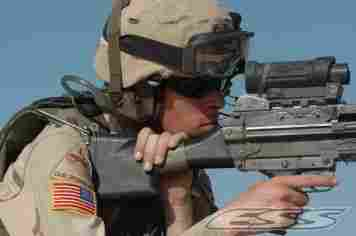 Why ESS?
At ESS, we specialize exclusively in eye protection for professionals in the most high adrenaline careers in the world: military, law enforcement, and firefighting. We do not make helmets, footwear, or watches. We do not create products for skiers or cyclists. The central focus of our dedicated management, design, and sales teams is to provide the highest quality products to our customers, tailored to their specific needs. Three aspects in particular separate ESS products and services from anyone in the industry:
QUALITY: ESS eyewear is made in the USA, and backed by a 1-year warranty against defects in manufacturing and workmanship. Our return rate is less than 1/20th of 1%. Strict and uncompromising quality controls coupled with competitive pricing make ESS an exceptional value.
INNOVATION: The ESS Product Development team is constantly working to design and improve the most advanced products in our markets. From goggles with fans (the ESS TurboFan™ Series) to eyewear with the advancing lens systems (the ESS Advancer V-12™), ESS is unrivaled in product innovation. Following are some standard key features found in all ESS products:
Lenses and frames that provide the highest level of safety and protection from high-impact projectiles
Proprietary Clearzone™ anti-fog and anti-scratch lens coatings for fog-free clarity and durability
Exceptional optical quality for distortion-free vision
100% protection against harmful UVA/UVB rays
Extra-wide field of view
High heat and flame resistance
Modular, replaceable parts
A broad range of accessories
SERVICE: ESS takes pride in on our ability to respond immediately to customer needs. Our products are Made in the USA, manufactured in the largest goggle factory in the world. This high level of production capacity allows us to manage large orders in a timely fashion, and our customer service staff is dedicated to bringing the highest level of service to our customers.
ESS looks to the future with an ongoing commitment to bring its customers the finest, most advanced eye protection available.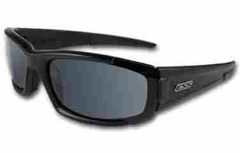 ---
» Features:
Comfortable fit with all standard helmets, and an extra-wide field of view.
Optically-correct polycarbonate lenses for distortion-free vision.
Lenses are extra thick (2.2mm to 2.8mm) with 100% UVA/UVB protection, and premium Clear Zone™ anti-fog / anti-scratch coatings.
Goggle lenses have very high impact resistance, well beyond the ANSI Z87.1 requirements, and above the level of the US Military spec: MIL STD 662F.
Clear and Smoke Gray lenses included with all military products.
ESS Modular Technology™ allows for easy replacement of all product components.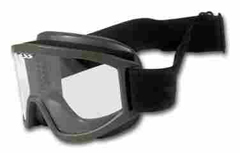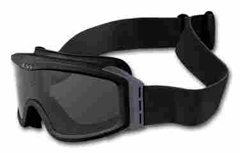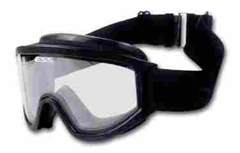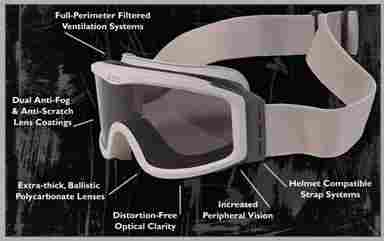 ---
» Purchase:
Ordering Instructions:
Please include your address with your order so that we can establish a total including shipping and insurance to your location.
We accept payments by way of personal check, money orders (all checks must clear prior to orders being shipped), or we take Visa, Master Card or Discover Card over the phone.
---