Piper's Precision Products - Airsoft M134A2 Vulcan Minigun
X-Caliber Tactical is an authorized reseller and distributor of Piper's Precision Products.
---
» News:
02/04/14 - Classic Army M-134A2 Vulcan Airsoft Miniguns now licensed by Piper's Precision Products and being imported into the U.S. soon!
04/03/10 - Certified Pre-Owned M-134A1 Available
06/13/08 - CNN.com video on non-lethal technologies
03/29/08 - New option, Auto-Loader
12/21/07 - New video
12/19/07 - Miniguns now in stock - limited quantities. Now with hop-up.
12/01/07 - Minigun Production Update
08/27/07 - Raptor Motorsports LSV-4 Mil-Spec
08/20/07 - Minigun Production Update
07/05/07 - New Run of M134A2 Miniguns from P3
06/18/07 - M134A2 Minigun on Country Music Television
02/25/07 - More New videos
01/25/07 - New videos
11/09/05 - M134A2 Minigun stock update
09/01/05 - FHM Magazine feature
06/05/05 - Airsoft Austria Television video review
---
» About:
Regrettably Piper's Precision Products sold out and halted production of their legendary M-134A2 Vulcan Airsoft Minigun in the past year. However they had licensed the design to Classic Army for them to produce them instead, meaning that we can now offer the Classic Army version to you at a substantially lower cost and that they should be available more regularly. They have similar appearance and performance to the original Piper's Precision Products M-134A21 and several units are planned for manufacturing and import to the U.S. for this year if things progress smoothly.
The sale price per unit is $3,500.00 U.S. not including shipping. Interested parties will be required to put down a 50% deposit in the amount of $1,750.00. Please note that this price reflects a cash discount when payment is made by personal check or money order. The total price if paid by other means would be $3,605.00.
Batteries, Co2 Tanks and Regulator/Remote Hose Kit sold separately.
The deposit is non-refundable in the case that the buyer decides to back out of their commitment or cannot pay the remaining balance within 10 days of the piece arriving in our possession and the customer being notified by us. For any unforeseeable issues that may arise in comparison on our part, we will gladly issue a full refund without penalty. The remaining balance and the shipping cost will be due within 10 days after the unit physically arrives in our possession at our location. Failure to do so will result in the forfeit of the deposit.
To insure timely delivery and reserve your unit, interested parities should contact us at your earliest convenience. Units will be sold and reserved on a first come, first serve basis. Any despots made after this date or after all units are spoken for in this production run will be subject to delays or will be applied to the next production run and shipment, which at this time, is unknown. Thus it is in your best interest to contact us as soon as possible.
This is quite a rare and fortunate once-in-a-lifetime opportunity to own one of the finest works of airsoft engineering and design. Like the original Piper's Precision Products model, the Predator Package and Blackhawk Package are compatible and can be added to your piece for an additional cost, though it will be subject to requiring additional time for fabrication as these packages are built on a per-order basis.
If we can answer any questions and be of any help to you, please contact us at sales@xcalibertactical.com or call 512-524-2621 for all inquiries.
Piper's Precision Products M134A2 Vulcan Minigun Specifications:
Length: 37"
Height: 13"
Weight: 22lbs. (Unloaded)
Caliber: 6mm Steel .88g BB or 6mm Plastic Airsoft (.20g or .25g) BB
(The M134A2 is capable of shooting both plastic and/or steel BBs through the same barrel; 6mm Steel BBs are NOT for use for airsoft skimishing!)
Velocity: 280 fps to 600fps (Depends on regulator and BB weight and customer's preferences)
Note: For those intending to skirmish with the M134A2, please consult your local field regulations concerning the permited legal limits!)
Rate of Fire: 50 Rounds Per Second or 3,000 Rounds Per Minute
Range: 50-75 Yards on a Human Sized Target (Effective); 100-125 Yards on a Human Sized Target (Maximum)
Ammo capacity: 5,800 Rounds (Internal Hopper)
Power Source: Co2 or High Pressure Air (HPA) Compressed Air Tank or Air Compressor (150 PSI, CFM 20-25 Recommended); 12 Volt 1100mAh Ni-Cad Battery (Powers the motor which spins the barrels)
FAQ:
How does it work?
The M134A2 is powered by both electricity and compressed air. The electricty comes via a high powered battery and powers the motor which controls the rotation of the barrel and the compressed air source physically propells the BB out the barrel. Inside the reciever is a central hub machined from Delron, a frictionless polymer compound, which houses a complex series of cams and bolts. During each revolution, the central hub, through a patented firing system engineered by Paul Piper of Piper's Precision Products (Patent 6,152,125) will pick up a BB from the central hopper and chamber it into the barrel. Each barrel has its own dedicated bolt and loading system independent from one another. It fires from a closed bolt system and features collasping design to insure no damage will occur due to misfire or misfeed. As each barrel rotates into the 11 o'clock position, it passes in front of the constantly expelled compressed air that is activated by the trigger, thus firing out the BB. As one barrel is firing the others are in the stages of being loaded, thus producing the high rate of fire. The weapon features many failsafe systems to minimum damage and wear and increase reliablity. In fact, the R&D test and demo M-134A1 model used by both Piper's Precision Products and X-Caliber Tactical over the last two years has to date reliably fired over 1,002,000 rounds without any maintainence or notable wear.
Does it have a hop-up?
Yes. The weapon features hop-up, which is standard in most airsoft guns, to provide back-spin to the BBs to improve on range and accuracy by inducing a curve to "lob" the BB's onto the target.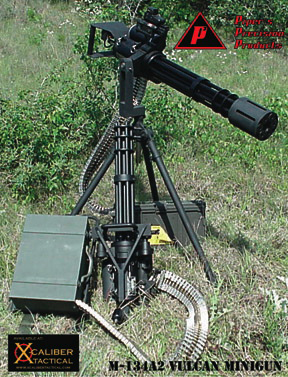 Where is the ammunition stored?
The weapon's internal ammunition hopper runs from the back of the weapon underneath the pistol grip, through the center reciever and into the central support tube of the barrel cluster to the very end of the muzzle. The gun's internal feed mechnaism loads BBs from inside the middle of the reciever itself and since the hopper is prone to the effects of gravity, the weapon may start to sporatically fire when this part of the hopper gets close to empty. This can be seen illustrated in some of the downloadable videos when the gun was either close to empty or the barrel was tipped downwards. Simply tipping the weapon backwards allows more BBs from the center support tube of the barrel cluster to run back into the reciever to permit more consistant fire. The gun also will function better firing upwards or level than muzzle downwards since the BBs tend to gather in the barrel cluster rather than the reciever itself. Piper's Precision Products is doing R&D on a retrofit kit to solve this problem that will feature a spring loaded plunger that will force feed the BBs into the rear of the gun no matter how the gun is positioned.
How is the muzzle velocity adjusted?
Because the gun works from an external compressed air source, the muzzle velocity is directly dependent on the air flow from the supply source. An air regulator attached onto the compressed air tank will control the flow rate and thus the velocity of the BBs. To increase or decrease the velocity of the BBs, the user must change regulators. This allows one to, for example, fire plastic airsoft BBs at low velocities in the back yard with minimal damage to a picket fence. Yet with a simple exchange of the air regulator, the same gun is capable of firing steel BBs at higher velocities at a firing range or open areas at "harden" targets for increased destructive potential. In those countries with legal set limits such as the United Kingdom or if used for airsoft skimishing in certain fields, customers must inform us of their velocity preferences so that we can supply the appropriate regulator. The basic M134A2 Vulcan package includes one regulator and additional ones are available.
Can it be fired in semi-auto?
The M134A2 Vulcan does not have nor is capable of a semi-automatic setting. The trigger simply powers the motor to turn the barrel cluster, thus starting the firing process and opens up the air valve to allow for constant flow as long as the trigger is depressed. However because the system is based on that of true gun powder cartridge miniguns or traditional hand-cranked Gatling guns, the simple rotation of the barrel cluster will fire the weapon. Thus with the battery unplugged you can by hand, rotate the barrels slowly and fire each barrel one at a time. This allows the gun to be properly chornographed at certain airsoft fields to insure the velocities are within safe and legal limits.
Why is it that expensive?
The M134A2 is the result of almost a decade of research and development at Piper's Precision Products. This is a long and costly process of not only material but of time as well. The end product also incoporates an engineering patent and costly CNC machining work. Since this is a low voulme and mostly a custom built weapon done one at a time by hand, the expense to create a M1342 is admitedly high. If large scale production was economically possible, that sales price would be dramatically different. As an interesting comparison, real Class 3/NFA transferable miniguns are astronomically priced due to their being a limited number available to qualified collectors and shooters with the asking prices rumored to be $250,000 - $375,000!
Can I use High Pressure Air (HPA)?
Yes, with a HPA-rated tank, but not in a CO2 tank! Some Minigun owners have asked about the use of High Pressure Air (HPA) in their CO2 tanks. HPA is a higher pressurized gas than CO2, and as such these tanks may malfunction, leak, develop cracks or even explode. X-Caliber Tactical DOES NOT in any way recommend the use of HPA with the Minigun CO2 tanks. There are "CO2 ONLY" markings on these tanks, and that is the only safe and approved way to use the CO2 tanks to power your Minigun.
Options:
Auto-Loader
A battery powered automatic BB loader! This will load BBs from its hopper into the internal hopper of the Minigun everytime you pull the trigger. The loading tube itself can plug into the back of any model P3 Minigun, however the auto-loading feature is only available with the late 2007-2008 year model M-134A2s. Re-wiring is necessary to work with older models. The loader inside the Predator Backpack and the hopper can be trimmed down if necessary. Price is $345.
We fired the minigun at various targets and did this for four minutes to test the auto-loader. The original video was too large to upload, so it was downsized to 45meg. Some quality was lost, and the barrels appear to be in slow motion (and turning the opposite direction). In actuality, the barrels are a blur, and they turn counterclockwise from the rear of the gun. This video also demonstrates the new auto-loader. Click here to watch.
Mock Flash Hider (Future release)
X-Caliber Tactical in conjunction with Piper's Precision Products (AKA P3) were recently able to develop a mock flash hider in the style of the current issue miniguns deployed on the U.S. Army UH-60 Blackhawk and AH-6 Little Bird helicopters. The flash hider houses six Tokyo Marui tracer units inside, which when used with special glow-in-the-dark plastic airsoft BBs, simulates tracer fire. This has been mounted to the latest version of the P3 M134A2 Vulcan with Blackhawk Package for further refinement the tracer system. The photos below illustrate the R&D / Demonstrator Minigun at P3's shop and with the tracer system installed as well as new experimental tightbore barrels to improve accuracy and range and a new prototype scope mount with reflex sight and laser. Don't forget to download the test footage of the tracer systen in action below! Price pending.

Disclaimer for Law Enforcement/Military Agencies for Less Lethal Use:
Due to the extensive rate of fire, law enforcement and military personnel are encouraged to exercise and heed the following: For less-lethal use, velocities should not exceed 425 FPS for typical engagements and should not be used at close range if possible. Do NOT aim for the center of body mass or head area. The M134A2 Vulcan Minigun is capable of inflicting serious or possible fatal injury! Aim for the lower extremities and when firing and keep the muzzle moving in a constant side-to-side motion across the target so to minimize tight clustering of the BBs directly onto the target to minimize possible injury. Fire ONLY short bursts! Long bursts may wear through a target and may inflict serious or possible fatal injury. NEVER use metal BBs for less-lethal use!! Use of metal BBs may inflict serious or possible fatal injury! Piper's Precision Products nor X-Caliber Tactical CANNOT be held responsible for any accidents or incidents due to misuse or neglect or use of the minigun in the less-lethal role.
---
» Videos:
Click here to see our Airsoft M134A2 Minigun videos on YouTube.
---
» Purchase:
Ordering Instructions:
This product is considered an airsoft or BB gun and thus is not typically subjected to any typical FFL restrictions and is legal in all countries, states, and cities that permit ownership of airsoft or BB guns. Buyers however are suggested to consult their local codes and must be over 18 and are required to sign a legal waiver. This waiver must be downloaded and a signed copied must either be scanned and emailed to sales@xcalibertactical.com or faxed after contacting us indicating your intent to purchase.
When making your order, please state if you want any of the options offered below. Email or call in your order and list everything you desire and be prepared to provide a signed copy of the disclaiimer. All prices listed online do NOT include shipping which will be estimated after your order is received and you will be notified of the exact total and then can proceed to make payment.
Please include your address with your order so that we can establish a total including shipping and insurance to your location. Shipping costs for just the basic Minigun Package alone averages basically $175-$225 using UPS for the continental U.S. Other couriers and rates are available.
We accept payments by way of personal check, money orders (all checks must clear prior to orders being shipped), or we take Visa, Master Card or Discover Card over the phone.
---